About the Product
Dynocart is a new expandable  personal shopping cart  people use for shopping. The shopping cart is a great product to use when shopping for a lot of products. It has an upward expandable inner basket which can be used if easily lifted up, providing more space for shopping products.  
Its a great product our team designed and implemented from the ground up, which is commonly in demand for people shopping at:
Supermarkets for large family shopping

When doing laundry

Transporting goods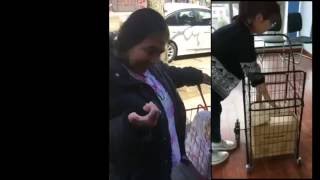 Introduction Video - NYC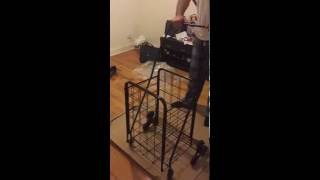 Expandable Cart Demonstration
Showcase
Introduction Video - NYC

Product Introduction Video

Expandable Cart Demonstration

UniquePersonal Shopping Cart with Upward Expansion for more space

Showcase

Expo Design for Dynocart
What's unique about this shopping cart is that its like any other shopping cart, but it expands upwards to provide more space for products to prevent the overflow of products. From having more space to storing products, to taking it up and down the stairs. Dynocart is the ideal personal shopping cart for every day use.
Product Design
We created over 5 custom designs and variations  for the personal shopping. Including 1 model plastic as seen in the featured image, and another 2 models in chrome wire and steel. We created all  2d and 3d  designs, and used an agile process where we were adding newer, better, and more feasible features including adjustable back and side panels. These panels allow the user to easily slide them upward to increase storage space in the cart.
We made sure that DynoCart eases the task of shopping for large orders, and  saves consumers a considerable amount of time and effort when shopping for groceries, doing laundry, transporting books, mail and packages.
Our  team provided full stack  design and outsourced engineering services including:
Animated Videos and Product Demonstration Videos
Banner Designes and Expo stand design
2D and 3D CAD rendering services
Sourcing  factories for DynoCart
Creation of  first prototype
SEO and Online Marketing
Website Design
We also designed and implemented the product website for Dynocart giving it a nice, modern, and sleek look and feel. The website was designed in WordPress. All articles were written by our team and all SEO and Social Media was done by us.
 Check out our videos below for a product demonstration:
Product Design Demonstration
Our team worked on this project for 4 years to bring it to life. We developed 6 prototypes and demonstration videos showing the functions of the product and proving the upward expansion and star wheel features. Please check the following videos:
Upward Expansion
Star Wheels
Animation Video for Plastic Version:
Virtual Demonstration Video:
Product Design Visualization: Patented Expandable Feature
Product Design Visualization: Shopping Cart Folding Feature
As part of our services, we provided copy writing services for every page, blog article content, Search Engine Optimization and Social Media Marketing. Pre-order DynoCart today- Click here